We are a team social and sustainable finance professionals with a wealth of expertise in raising capital for impact businesses around the world.
OUR Team
Co-founder and CEO
Bertrand is co-founder and ex Co-CEO at Numbers for Good. Since its inception in 2012, Bertrand has managed the operations of Numbers for Good, developed the financial advisory delivery and brought deep strategic insight and social investment experience to help social organisations grow, scale and raise impact investments. Bertrand has overseen the development of and ran the Health Social Innovators accelerator as a JV with UCLB, 20+ Social Impact Bonds projects, 50+ investment readiness programs and managed the Numbers for Good investor relationships on propositions that help shape solid investment options. Bertrand has 15 years investment banking experience with specific expertise in structuring and executing strategic corporate equity transactions at Deutsche Bank.
Bertrand graduated with a B.Sc. from University of Bristol holds a M.Sc. From Warwick University. He is fluent in French and English.
Email: bertrand@changesquare.com
Co-founder and Senior Advisor
Nicolas brings 20 years of experience in strategy, data analytics, and management consulting to ChangeSquare. Nicolas founded Aleron Partners – a strategy and data analytics firm that supported numerous clients across industries improving their performance using data analytic solutions. Over the last five years, the firm moved their focus to the social sectors including education, health, social care, employment, and justice. Prior to Aleron, he was a Director in Strategy & Business Development at JPMorgan. Further, he held senior business development, strategy and line-role positions in both Accenture and IBM.
Nicolas graduated from Institut d'Etudes Politiques de Paris (Sciences Po) and holds a Masters in Finance and Corporate Law. He is fluent in English and French.
Email: nicolas@changesquare.com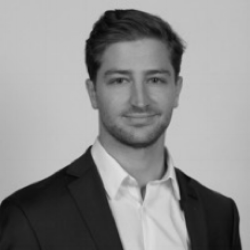 Co-founder and Senior Advisor
Tanner brings strong experience in business development, impact investment analysis, capital raising, and impact monitoring and evaluation practices to ChangeSquare.
Tanner is an international development and social finance professional. Tanner has worked in operational and financial capacities at two major international NGOs in New York City, was a fellow for impact investing at Unitus Capital in Bangalore, India, and has been a social impact consultant at Aleron in London.
Tanner holds a BA in philosophy from The College of William and Mary; a MSc in international affairs from Florida State University; and a MSt candidate for social innovation at University of Cambridge, Judge Business School.
Email: tanner@changesquare.com
Toby is an experienced capital markets and M&A banker who has, in recent years, been increasingly involved in early stage companies from an investment and advisory perspective.
After 18 years at Deutsche Bank advising on M&A, IPOs and capital raising he then spent almost six years running investment banking in Europe for China International Capital Corporation advising on cross border M&A and
investment.
A large part of this role involved helping Chinese corporates and investors access European opportunities to accelerate China's investment in line with One Belt One Road and Made in China 2025 initiatives.
Toby holds a BSc from the London School of Economics and an MSc from Durham University.